Industrial Radiator Repair: Comprehensive Caterpillar Forklift Radiator Repair, Cleaning and Maintenance Services
Unveiling Our Premier Services
For businesses that rely on forklifts, having a reliable radiator is crucial to sustain workflow. That's why Pankey's Radiator Repair Shop offers an all-encompassing set of services that keep your forklift radiators functioning flawlessly.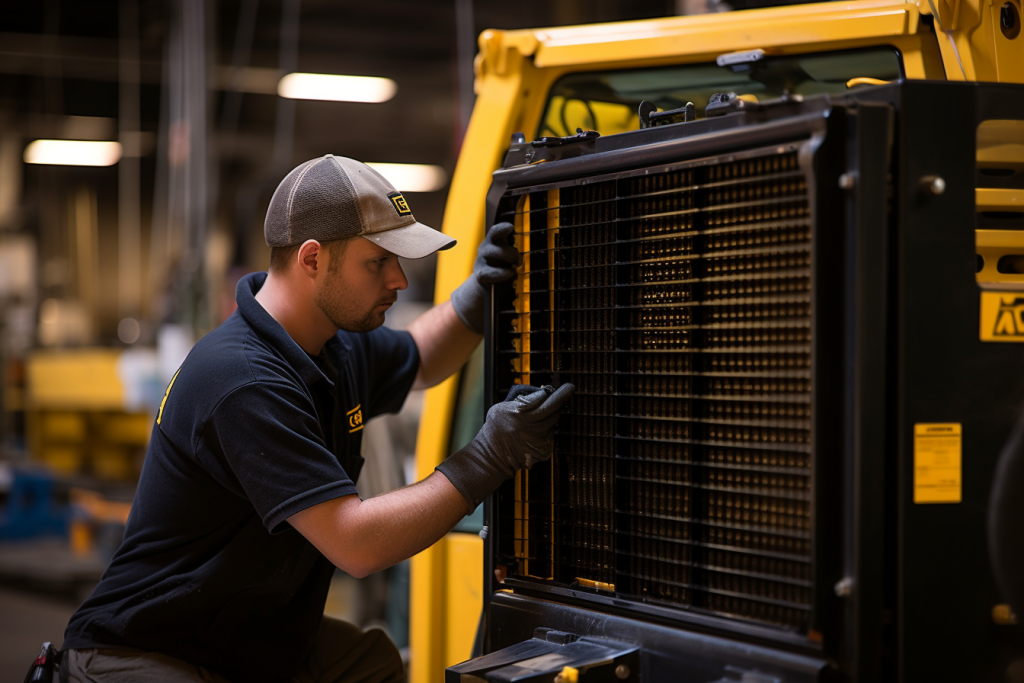 Forklift Radiator Repair
When your forklift radiator starts to falter, we step in with specialized repair solutions that put your operations back on track.
ForklifForklift Radiator Maintenance
Extend the lifespan and enhance the performance of your forklift radiator with our top-of-the-line maintenance services.
Heavy-Duty Radiator Services
From heavy machinery to industrial applications, we offer broad-spectrum radiator services tailored to your specialized needs.
Aluminum Oil Cooler Repair
Our aluminum oil cooler repair services ensure optimal cooling efficiency, essential for the high-performance demands of forklift operations.
Emergency Forklift Services
Because we know that business can't wait, our emergency forklift radiator services are available 24/7 to resolve any immediate issues.
About Us
Lifting the Benchmark in Forklift Radiator Services
Pankey's Radiator Repair Shop has long been a trusted name in radiator services, with a specialized skill set in forklift radiator maintenance and repair. Our mission is to deliver high-quality, reliable services that contribute to your business success.
Related Pages: Heat Exchanger Repair, Boat Heat Exchanger Repair, Tractor Radiator Repair
Why Choose Pankey's Radiator Repair Shop
Where Expertise Meets Excellence in Forklift Radiator Services!
Targeted Skills: We specialize in forklift radiators, making us experts in diagnosing and fixing even the most complex issues.
Quick Turnaround: Your operational efficiency is our priority. Expect fast, yet accurate, service every time.
Budget-Friendly: Get unparalleled service without straining your budget. We offer competitive pricing for top-grade services.
Customer Focus: Your satisfaction fuels our drive for continuous improvement in service delivery.
Our Unique Edge
Your Go-To Source for Specialized Forklift Radiator Services!
What sets us apart is our narrow focus on forklift radiators. This specialization enables us to offer highly targeted solutions that are designed to meet the unique requirements of forklift operations.
Please do not hesitate to contact us if you have any questions. We would be happy to help you in any way that we can. We cordially invite you to reach out for a complimentary consultation. This is not just a service, but our commitment to ensuring you're equipped with the right information.
Keywords: Caterpillar radiator repair, Pankey's Radiator Shop, Caterpillar vehicles.
Contact Details:
Contact: Mario or Paul
Phone: (510) 581-6804
Address: 21805 Foothill Blvd, Hayward, CA 94541
Website: www.pankeyradiator.com
Email: pankeysradiator@yahoo.com
Best of all? We can come to you.
It's all about making things easy and convenient. Looking forward to connecting with you soon!