Horizontal Generator Maintenance: A Guide to Repairs, Cleaning, and Top-Notch Services!
Hello, energy enthusiasts! Have you ever stopped to appreciate the hum of a horizontal generator powering your space? These magnificent machines do their magic mostly behind the scenes, and it's high time we give them the spotlight they deserve. So, let's dive into the enchanting world of horizontal generator upkeep. Ready, set, energize!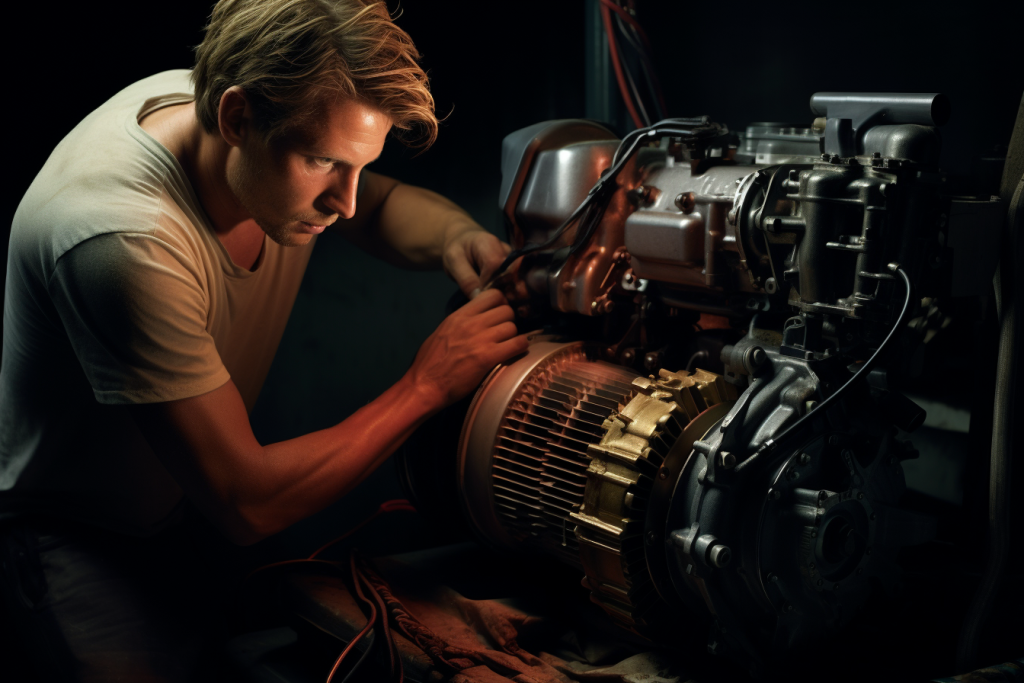 Horizontal generators are a type of electric generator that uses a rotating shaft to convert mechanical energy into electrical energy. They are typically used in large power plants to generate electricity for the grid, but they can also be used in smaller applications, such as in homes and businesses.
Horizontal generators are very efficient at converting mechanical energy into electrical energy. They are also very reliable and have a long lifespan. However, they do require regular maintenance to ensure that they continue to operate at peak efficiency.
Here are some tips for keeping your horizontal generator in good condition:
Inspect the generator regularly for any signs of wear or damage.
Change the oil and filter according to the manufacturer's recommendations.
Clean the generator regularly to remove any dirt or debris.
Inspect the belts and replace them if they are worn or damaged.
Inspect the spark plugs and replace them if they are worn or damaged.
Related Keywords: Excavator Radiator Repair, Heat Exchanger Repair
Horizontal Generators Unplugged: What's the Buzz About?
Before we delve deep, here's a quick refresher. Horizontal generators, as the name hints, have a horizontally oriented shaft. They might not always take center stage, but they sure are the unsung heroes behind consistent power.
Alert Mode: Signs Your Horizontal Generator Seeks Some TLC
Just like us, our reliable generators have their way of whispering when they need a bit of pampering:
Unexpected Rumbles: If your generator's humming more like a disgruntled bee than a melodious tune, it might be asking for attention.
Power Hiccups: Intermittent power or frequent shutdowns? Sounds like someone's trying to communicate!
Mood Lights: Keep an eye on indicator lights. They're not just for show; they're a silent dialogue between you and your machine.
Maintenance Mantras: The Three R's – Repair, Rejuvenate, and Radiate!
Here's how to ensure your horizontal generator remains the powerhouse it was born to be:
Crucial Clean-ups: Just like we need our morning showers, generators love a good clean.
Clearing out accumulated dust and debris ensures smoother operations.
Tighten the Ties: Routine checks of bolts, bearings, and other components can prevent minor issues from ballooning into major troubles.
Lubricate to Levitate: Regular lubrication ensures things run smoothly. Think of it as a spa day for your generator!
Related Pages: Marine Heat Exchanger Repair, Aluminum Oil Cooler Repair, Caterpillar Radiator Repair
Service Serenade: The Sweet Symphony of Professional Touch
While we all love a good DIY session, some things, like our beloved horizontal generators, fare best in expert hands:
Experience Illuminates: There's a special kind of magic in hands that have tinkered with countless generators. They see things. They know things. They fix things!
Safety Samba: Pros ensure every repair, every clean, every tweak, is up to the safety mark. It's not just about keeping the lights on but doing so safely.
Future Gazing: A professional not only fixes but also offers insights into potential future issues, helping you stay a step ahead.
Winding Down: Odes to Our Horizontal Heroes!
Horizontal generators are a bit like the bassists of a band. They might not always be in the limelight, but oh boy, do they lay down the groove. They're the steady beat behind our powered lives.
So, the next time you're enjoying uninterrupted power, maybe send a little nod of gratitude to your horizontal generator. And remember, with a bit of love, care, and the occasional expert touch, it'll keep powering your dreams, one watt at a time. Here's to the hum, the buzz, and the electric vibes! ⚡🎶💡
Please do not hesitate to contact us if you have any questions. We would be happy to help you in any way that we can. We cordially invite you to reach out for a complimentary consultation. This is not just a service, but our commitment to ensuring you're equipped with the right information.
Contact Details:
Contact: Mario or Paul
Phone: (510) 581-6804
Address: 21805 Foothill Blvd, Hayward, CA 94541
Website: www.pankeyradiator.com
Email: pankeysradiator@yahoo.com
Best of all? We can come to you.