Semi-Truck Radiator Repairs, Cleaning and Maintenance: Pankey's Top-Notch Services!
Greetings to you, esteemed road warriors and titans of the trucking realm! Haven't we all experienced those magical moments, smoothly gliding down vast highways, with landscapes unfurling like an endless tapestry? As the hum of your faithful semi-truck resonates reassuringly beneath you, it's akin to a symphony of purrs from a deeply satisfied feline. This serene backdrop to your journeys, the uninterrupted cadence of your travels, has a silent guardian watching over it.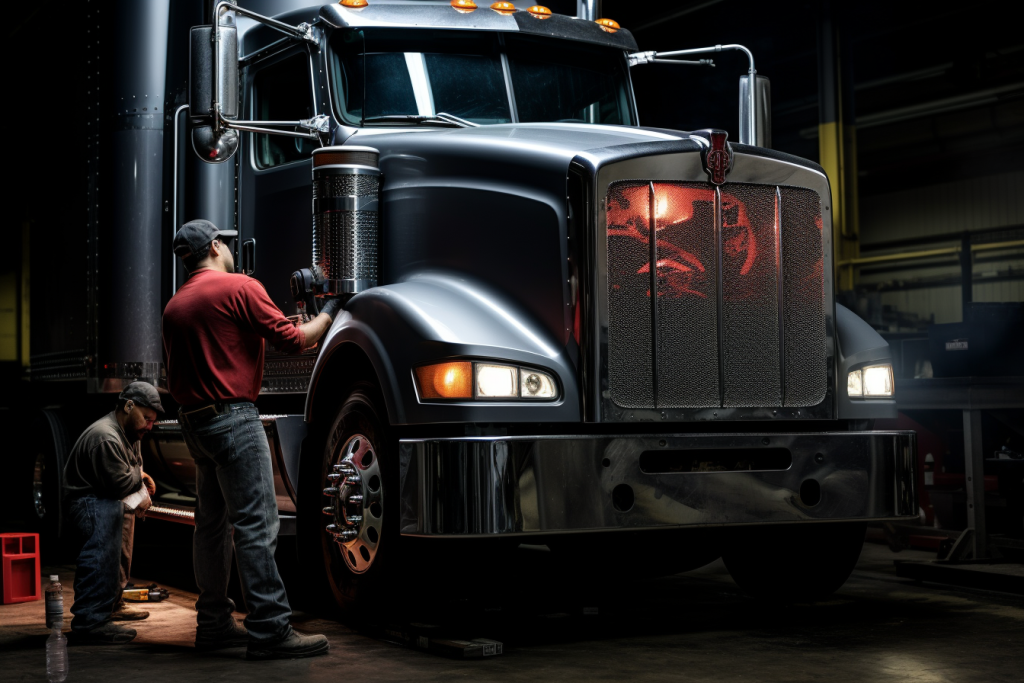 That guardian is none other than the indispensable semi-truck radiator. Often hidden in the shadows of roaring engines and gleaming exteriors, this unsung hero is the heartbeat that ensures our journeys are unhindered and our trucks are at their peak performance. So, as we traverse miles and milestones, let's momentarily hit the brakes, take a pause, and raise a toast to this tireless trooper that quietly works wonders, ensuring we're always on the move with a cool engine and a warm heart.
Radiator Revelations: The Why and Wow of Semi-Truck Radiators
Before diving into the nitty-gritty, let's establish the base camp. The semi-truck radiator is your rig's personal climate control expert. Ensuring the engine doesn't get too hot under the collar, this bad boy is all about balance – keeping things cool when the journey heats up.
Hitting the Brakes: Tell-tale Signs Your Radiator's Hollering for Help
Even the mightiest rigs have moments of vulnerability. Here's how your radiator might ring the alarm bells:
Temperature Tizzies: If your semi's thermometer is reaching for the stars, the radiator's probably signaling SOS!
Steamy Surprises: Spotted steam rolling out from under the hood? That's not your truck trying to vape; it's a radiator cry for attention.
Coolant Capades: Unexplained puddles? Could be your radiator reminding you to top it up or patch it up!
Maintenance Maneuvers: Keep That Rig Rolling & Radiator Rocking!
While semi-trucks are beasts on the road, their radiators need a touch of tender loving care:
Regular Rinses: Give that radiator a good ol' flushing. It helps evict any gunk or sediment that might be crashing uninvited.
Seal & Steal the Show: Inspect hoses for wear and tear. A little preemptive replacement can save you a whole lot of roadside hassle later.
Coolant Check: Ensure you're topped up with quality coolant and maintain that ideal mix with water.
Revving Up the Pros: When Expert Hands Make Light Work
Sometimes it's best to let the experts slide into the driver's seat:
Diagnostic Drives: Skilled techs have an eye for issues that might slip past the untrained observer.
Pressure Points: Professionals can perform a pressure test, ensuring the radiator cap and system hold tight without any sneaky leaks.
Guaranteed Gear: Many service providers back their work with warranties, so you roll out with confidence.
A Tip of the Trucker Cap to Radiators Everywhere!
To sum it all up, while we might sing praises of powerful engines or admire aerodynamic designs, let's not forget the silent savior nestled under the hood. The semi-truck radiator ensures every haul is smooth, every journey cooler, and every destination attainable.
So whether you're hauling freight cross-country or just taking the scenic route, remember to give a nod to that trusty radiator. With regular check-ins, a dash of care, and the occasional professional touch, your radiator will keep you, and your cargo, cruising comfortably. Safe travels, and keep on truckin'! 🚛🔧🛣️
Semi-Truck Radiator Guide: Expert Tips on Repair, Cleaning & Maintenance
Embark on the ultimate road trip through semi-truck radiator care! Discover signs your radiator needs TLC, maintenance tricks, and when to call in the pros. Keep your rig rolling and your journeys smooth. Dive in now!
Please do not hesitate to contact us if you have any questions. We would be happy to help you in any way that we can. We cordially invite you to reach out for a complimentary consultation. This is not just a service, but our commitment to ensuring you're equipped with the right information.
Contact Details:
Contact: Mario or Paul
Phone: (510) 581-6804
Address: 21805 Foothill Blvd, Hayward, CA 94541
Website: www.pankeyradiator.com
Email: pankeysradiator@yahoo.com
Best of all? We can come to you.