Tractor Radiator Repairs, Cleaning and Proactive Maintenance Services 🌾🚜
Greetings, farming enthusiasts and guardians of the green expanses! Isn't it a marvel how the fields come alive every season, promising a bountiful harvest? This magic, however, isn't just Mother Nature at work. It's equally about those roaring beasts called tractors that diligently plow, sow, and reap. At the heart of these magnificent machines, ensuring they function seamlessly, is the tractor radiator. And with various types of tractors, each tailored to unique tasks, having a well-maintained radiator is paramount. Let's embark on a journey into the world of tractor radiators, because, like the crops they tend to, these components need love and care to flourish.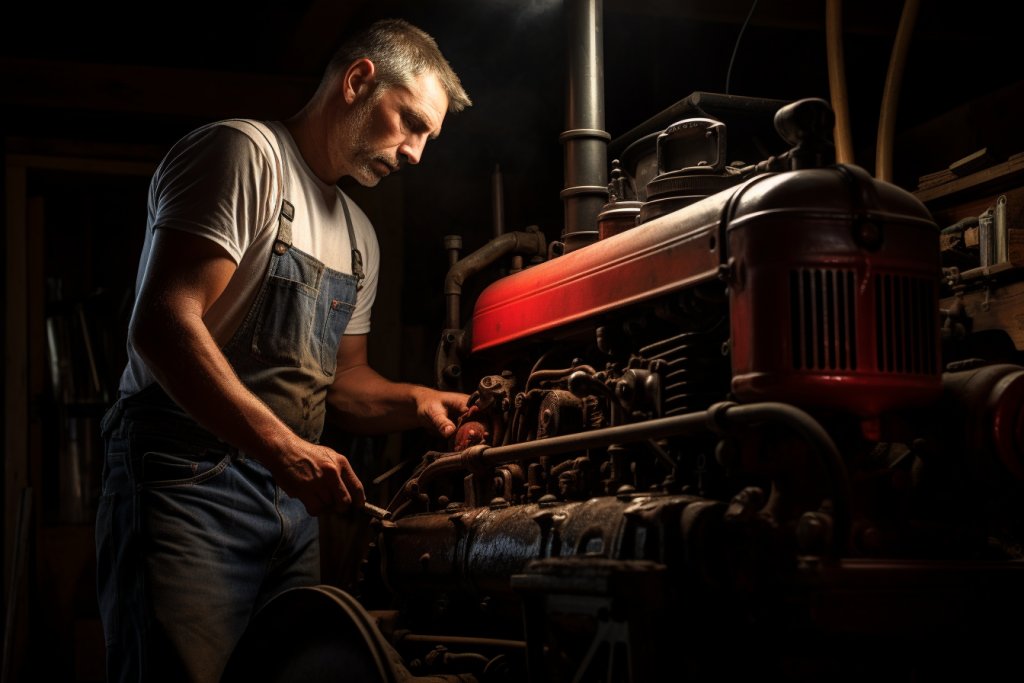 The Magnificent Seven: A World of Tractors
Row-Crop Tractors:
The ballet dancers of the tractor world, these machines gracefully navigate between rows of planted crops. Precision is their forte. Their streamlined design and high ground clearance mean their radiators must be equipped to handle precision tasks without faltering, even on the sunniest days.
Utility Tractors:
The jack-of-all-trades in the tractor family. From plowing to pulling to lifting, they're the multitasking marvels on the farm. These all-rounders require radiators that are as versatile as their functionalities, ready to adapt to a variety of tasks without breaking a sweat.
Orchard Tractors:
The unsung heroes that work behind the dense orchards, these tractors are designed with a low profile to prevent damage to low-hanging fruits. Because of their work in more enclosed spaces, they need radiators that excel at maintaining optimal temperatures, ensuring the engine doesn't overheat amidst the foliage.
Compact Utility Tractors:
Small but mighty! These tractors are perfect for light chores around the farm or garden. Their radiators, though smaller in size, pack a punch in performance, ensuring these nimble beasts remain agile and active.
Industrial Tractors:
The Herculean members of the tractor lineage. Built for tasks beyond farming, like construction or road building, their radiators need to be tough and resilient, always ready to take on the heat (literally) of heavy-duty jobs.
Garden Tractors:
The darlings of your home gardens. These are more powerful than your regular lawn mowers and are adept at tasks like tilling, plowing, or snow blowing. Their radiators, essential for optimal performance, ensure you have the best-looking backyard in the neighborhood.
Two-Wheel Tractors:
Unique and mostly hand-operated, these tractors are used worldwide for small farming tasks. Their specialized radiators are vital in ensuring they keep moving smoothly, helping farmers in various terrains.
Related Pages: Truck Radiator Repair, Caterpillar Dozer Radiator Repair, Excavator Radiator Repair
Caring for the Cooling Colossus: Radiator Tips & Tricks
We've established how pivotal the tractor radiator is. Let's dive into some essential care tips to ensure longevity:
Regular Check-ups: Prevention is better than cure, as they say. Regular inspections of the radiator can identify minor issues before they escalate. Check for leaks, rust, or damages, ensuring your tractor remains in peak condition.
Clean & Clear: The outdoor nature of a tractor's job means it's exposed to dirt, dust, and debris. This can lead to a clogged radiator. Regular cleaning, using appropriate cleaning agents, ensures the radiator performs efficiently. A thorough flush of the coolant every year can also prevent any residues from hampering performance.
Replace and Rejoice: Radiators are sturdy, but they're not invincible. Over time, hoses might deteriorate, or certain parts might wear out. Timely replacements ensure your tractor remains healthy, and you, happy.
Coolant Chronicles: Using the right coolant mixture is crucial. Typically, a 50/50 mix of water and antifreeze is recommended. This mixture ensures the radiator doesn't freeze in winter and doesn't boil over in summer.
External Inspections: While internal health is crucial, don't forget the external components. The radiator grill, for instance, prevents debris from entering but can get clogged. Regular cleaning ensures better airflow and improved cooling.
As we draw our journey to a close, it's essential to remember that our dependable tractors, responsible for plowing fields and yielding crops, rely heavily on their radiators. Like the heart in our bodies, the radiator is the heart of the tractor. And just as we'd care for our heart, caring for a tractor's radiator ensures longevity, efficiency, and bountiful harvests year after year. So, here's to the unsung heroes of our fields – the tractors and their steadfast companion, the radiator. Happy farming, everyone! 🌽🚜🌾
Please do not hesitate to contact us if you have any questions. We would be happy to help you in any way that we can. We cordially invite you to reach out for a complimentary consultation. This is not just a service, but our commitment to ensuring you're equipped with the right information.
Contact Details:
Contact: Mario or Paul
Phone: (510) 581-6804
Address: 21805 Foothill Blvd, Hayward, CA 94541
Website: www.pankeyradiator.com
Email: pankeysradiator@yahoo.com
Best of all? We can come to you.