Charge Air Cooler Repair, Cleaning and Maintenance!
Hello speed enthusiasts and turbo lovers! If you've ever wondered what gives certain vehicles that extra boost, you're in for a treat. Beneath the hood lies a marvel of modern engineering: the turbocharger. And for this beast to function seamlessly, we've got the turbocharger cooler – the unsung hero ensuring everything remains, well, cool. Let's dive deep into the fascinating world of turbocharger coolers, explore its varied types, and understand why they deserve your attention and care.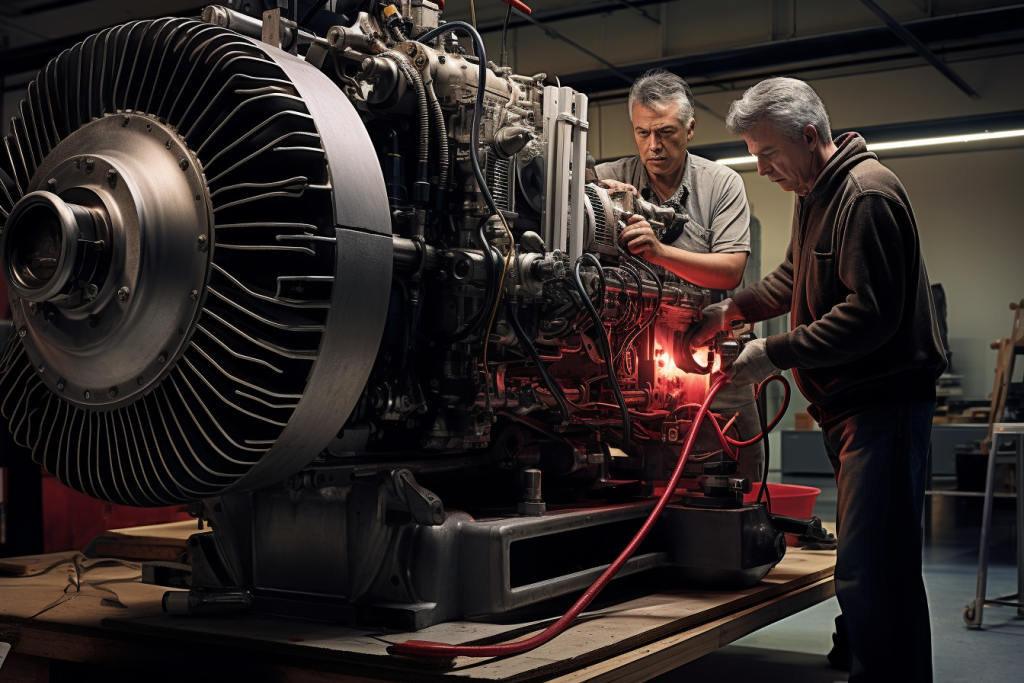 A turbocharger cooler, also known as an intercooler, is a device that cools the compressed air that is fed into the engine by a turbocharger. This is important because compressed air is hotter than ambient air, and hotter air is less dense. This means that a turbocharger can't force as much air into the engine if the air is too hot. A turbocharger cooler helps to reduce the temperature of the air, which allows the turbocharger to force more air into the engine, which in turn produces more power.
There are two main types of turbocharger coolers: air-to-air coolers and water-to-air coolers. Air-to-air coolers are the most common type, and they work by passing the compressed air through a series of fins that are cooled by ambient air. Water-to-air coolers are less common, but they are more efficient than air-to-air coolers. They work by passing the compressed air through a series of fins that are cooled by water that is circulated through the cooler.
Turbocharger coolers are an important part of any turbocharged engine, and they deserve to be taken care of. If a turbocharger cooler is not working properly, it can cause a number of problems, including decreased engine power, increased fuel consumption, and even engine damage. If you think that your turbocharger cooler may not be working properly, it is important to have it checked by a qualified mechanic.
Different Types of Turbo Charger Coolers:
Air-to-Air Aftercoolers (Intercoolers)
A common type of turbo charger cooler, the air-to-air aftercooler (often termed as an intercooler) cools the compressed air using ambient air. It usually sits between the turbocharger and the engine's intake. By lowering the temperature of the intake air, it ensures better combustion and improved engine efficiency.
Water-to-Air Aftercoolers
Instead of using ambient air, this cooler type uses water or coolant to cool the compressed air from the turbocharger. It's common in applications where space constraints don't allow for larger air-to-air units, and can often be found in compact performance cars.
Charge Air Coolers
Charge air coolers are similar in function to intercoolers, but they're integrated more closely with the engine's intake manifold. They effectively reduce the air temperature after it has been compressed by the turbocharger, ensuring optimal engine performance.
Mist/Water Injection Systems
A bit different from the traditional coolers, these systems cool the intake air by injecting a fine mist or water directly. This method not only cools the air but can also increase horsepower by allowing denser air into the combustion chamber.
The Value of Repairing, Cleaning, and Servicing Turbo Charger Coolers
Your vehicle's turbocharger is like the heart of its performance system. But without a properly functioning cooler, the turbocharger can't operate at its peak, which could lead to reduced power, inefficiency, or even damage.
Related Pages: Copper Oil Cooler Repair, Generator Radiator Repair, Heat Exchanger Repair
Regular Maintenance is a game-changer:
Cleaning: Over time, debris or contaminants can accumulate in the cooler, impacting its efficiency. Regular cleaning ensures unobstructed airflow and optimal performance.
Inspections and Repairs: Identifying issues early can save costly repairs in the future. Our team meticulously examines the cooler for any signs of wear, damage, or malfunction.
Expert Servicing: With evolving technology, it's essential to have a knowledgeable team at your service. From understanding the intricacies of the latest coolers to providing top-notch service, we've got you covered.
Turbo charger coolers might not get all the spotlight, but they sure play a pivotal role in ensuring that your ride remains smooth, powerful, and efficient. Whether you're a casual driver, a racer, or someone who simply loves to understand the mechanics of their vehicle, giving due care to your turbocharger cooler will ensure you always have that extra edge on the road.
Please do not hesitate to contact us if you have any questions. We would be happy to help you in any way that we can. We cordially invite you to reach out for a complimentary consultation. This is not just a service, but our commitment to ensuring you're equipped with the right information.
Contact Details:
Contact: Mario or Paul
Phone: (510) 581-6804
Address: 21805 Foothill Blvd, Hayward, CA 94541
Website: www.pankeyradiator.com
Email: pankeysradiator@yahoo.com
Best of all? We can come to you.