The Heavy-Duty Radiator Maintenance: Dive into the World of Industrial Radiator Repair, Cleaning, and Stellar Services!
Hello, machinery experts! Heavy-duty industrial radiators may not be the stars of your machinery ensemble, but they certainly play a vital role in keeping the show running smoothly. Let's take a deep dive into the different types of radiators and understand the ins and outs of repairing, cleaning, and providing top-notch service for each one.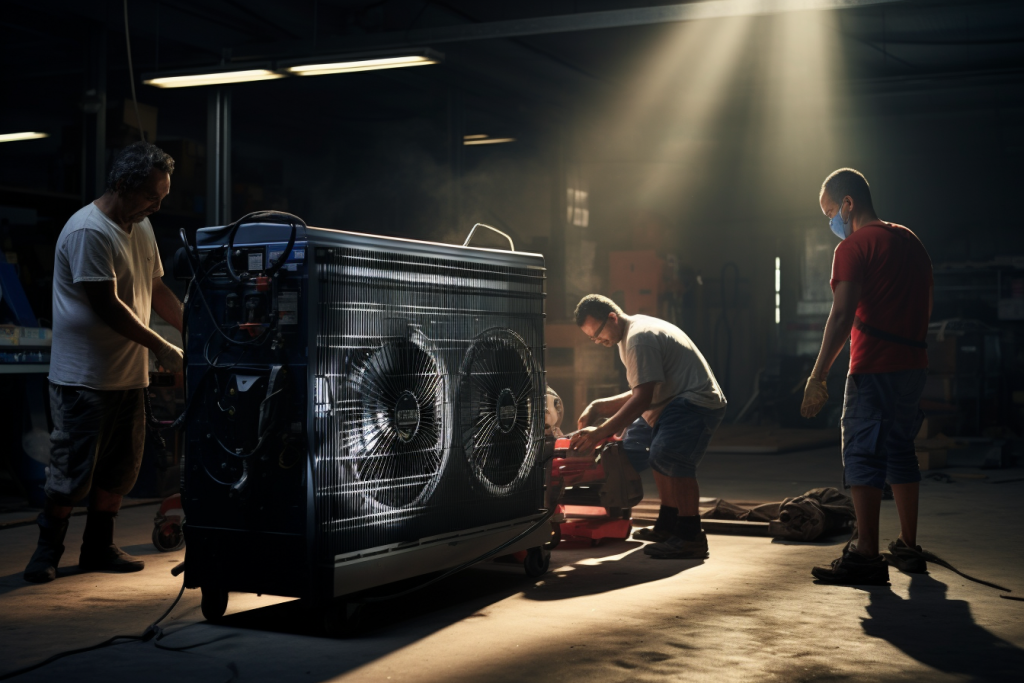 There are three main types of heavy-duty industrial radiators: shell and tube, plate and frame, and fin tube. Shell and tube radiators are the most common type and consist of a series of tubes that are surrounded by a shell. The tubes are filled with a coolant, which absorbs heat from the machinery and transfers it to the shell. Plate and frame radiators are similar to shell and tube radiators, but they use plates instead of tubes. Fin tube radiators are the most compact type of radiator and consist of a series of fins that are attached to a tube. The fins increase the surface area of the radiator, which allows it to dissipate heat more effectively.
Industrial Radiators need to be repaired or cleaned on a regular basis to ensure that they are working properly. Repairs may be necessary if the radiator is leaking, if the fins are clogged, or if the coolant is low. Cleaning can be done by flushing the radiator with water or by using a chemical cleaner. Top-tier services for radiators include preventive maintenance, which can help to extend the life of the radiator, and emergency repairs, which can be done to get the radiator back up and running as quickly as possible.
By understanding the different types of radiators and the importance of repair, cleaning, and top-tier services, you can help to ensure that your machinery runs smoothly and efficiently.
Aluminum Heavy Duty Radiator: The Lightweight Champion
Aluminum radiators are often hailed as the contemporary heavyweights in the radiator world, despite being incredibly light! With their excellent heat dissipation capabilities and resistance to corrosion, they're a popular pick for many industries.
Repair: Aluminum may be sturdy, but it can be prone to punctures or leaks. Welding or epoxy solutions are common fixes. An annual check can keep unexpected breakdowns at bay.
Cleaning: Given their resistance to rust, cleaning is a breeze. However, accumulated debris or contaminants should be regularly flushed out to maintain performance.
Services: Due to their modern prominence, many radiator service centers have specialized knowledge and tools for Aluminum radiators. Regular servicing ensures longevity and optimal functionality.
Brass Heavy Duty Radiator: The Golden Oldie
Brass radiators are like the vintage vinyl of the radiator world. Known for their durability and classic aesthetic, they were once the industry standard before aluminum made its entrance.
Repair: Brass is robust, but its soldered joints can sometimes give way. Professionals often resolder these joints to seal any leaks.
Cleaning: A brass radiator can be susceptible to internal deposits. A good flush with a radiator cleaning solution every now and then keeps it in tip-top shape.
Services: Given its age-old popularity, many service centers have a nostalgic expertise in handling brass radiators, ensuring they keep humming smoothly.
Copper Heavy Duty Radiator: The Conductor Extraordinaire
Copper radiators, with their superior thermal conductivity, are like the maestros orchestrating the perfect temperature. They offer quick cooling, making them ideal for high-performance demands.
Repair: While copper is durable, it's not immune to wear and tear. Leaks or damages are usually repaired by soldering or welding, depending on the extent of damage.
Cleaning: Copper radiators benefit from occasional flushing. Using a mixture of distilled water and a specialized cleaner can help remove any build-up.
Services: Given copper's thermal prowess, regular professional check-ups are crucial to ensure the radiator functions efficiently and safely.
Stainless Steel Heavy Duty Radiator: The Shining Star
Stainless steel radiators are the epitome of strength meets style. Combining durability with a sleek finish, they are often used in environments requiring both aesthetics and performance.
Repair: Being resistant to rust and corrosion gives stainless steel an edge, but they aren't invincible. Welding is the go-to repair method for any potential leaks or issues.
Cleaning: The shiny exterior is easy to clean with basic cleaning agents. Internally, a coolant flush once in a while ensures it remains debris-free.
Services: As they're a blend of beauty and brawn, they need specialized services that cater to both aspects. Regular servicing ensures they remain as shiny in performance as they are in appearance.
Keywords: truck radiators, industrial radiator repair, alumunium oil cooler cleaning, top-tier radiator services, aluminum radiator maintenance
The Symphony of Industrial Heavy Duty Radiators!
In the grand orchestra of machinery, heavy-duty radiators play a symphony of cooling. Each type, be it Aluminum, Brass, Copper, or Stainless Steel, has its unique rhythm and requirements. By understanding and catering to these, we ensure a harmonious and uninterrupted performance. So, here's to the unsung heroes that keep our machines cool and our operations hot! Keep radiating! 🌟🔧
Please do not hesitate to contact us if you have any questions. We would be happy to help you in any way that we can. We cordially invite you to reach out for a complimentary consultation. This is not just a service, but our commitment to ensuring you're equipped with the right information.
Contact Details:
Contact: Mario or Paul
Phone: (510) 581-6804
Address: 21805 Foothill Blvd, Hayward, CA 94541
Website: www.pankeyradiator.com
Email: pankeysradiator@yahoo.com
Best of all? We can come to you.